About Us
OUR STORY
MarryMeDiamonds aims to change the way you buy engagement rings in just three easy steps:
Select. Propose. Enjoy.
As a family of Swiss jewelers who started our first workshop in Asia in 1971, there has been one question we have been most commonly asked throughout the years: How do I choose a diamond engagement ring?
With all the ring options and information available, it may be overwhelming to know what to look for when buying jewelry.
We established MarryMeDiamonds to return the confidence to you.
Choosing the perfect engagement ring should be a pleasant experience, and we want to simplify the process with our range of timeless jewelry.
Our intricate custom made engagement rings feature high-quality diamonds that will represent an eternal symbol of your love.
Our website makes it easy to buy jewelry online in Thailand.
We have carefully curated our selection of rings to showcase classic designs that enhance the brilliance of the diamond.
You can take your time to carefully browse through our beautiful diamond engagement rings and wedding bands in a pressure-free environment. MarryMeDiamonds consists of a team of experts and graduate gemologists from GIA, the world's leading authority on diamond grading and certification.
We use our decades of goldsmith expertise and extensive experience in manufacturing for well-known European brands to bring you the finest jewelry that will last a lifetime. We guarantee that we have put all our love and craftsmanship into enhancing the Earth's most precious gemstone. So all you have to do is:
Select. Propose. Enjoy.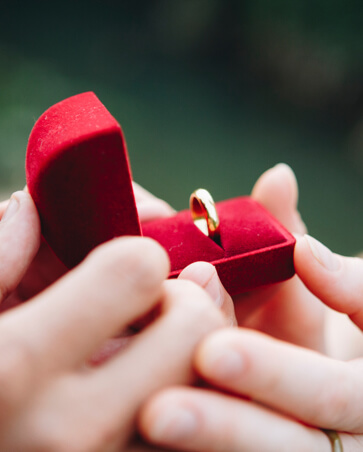 CONFLICT-FREE DIAMONDS

GIA CERTIFICATES

CAREERS
MarryMeDiamonds guarantees that we have a zero-tolerance policy towards conflict diamonds. We adhere to the standards set forth by the Kimberley Process Certification Scheme to prevent the trade of conflict diamonds. Therefore all materials used have been ethically sourced, and we only purchase from reputable suppliers who comply with the Kimberley Process to ensure the legitimacy of their diamonds.
MarryMeDiamonds guarantees diamonds of the highest quality. We only purchase center stones that have been GIA certified. Unlike many companies that offer their own certificates, MarryMeDiamonds will provide a GIA certificate of authenticity for all diamonds over 0.30 carat. GIA is the leading independent authority in diamond grading, and the certificate is used to guarantee the diamond's value and quality. The GIA certificate also ensures the diamond is conflict-free and genuine.
MarryMeDiamonds prides itself on bringing high-quality diamond jewelry to Thailand, while educating consumers at the same time. We strive to provide an honest, authentic and effortless experience for customers to buy jewelry online with confidence. If you are interested in growing with us, please contact us at
[email protected]
.